Film News Archive
This section is for news stories, for an archive of commentary, see here.
What Does It Mean When Hollywood Says, "The Character is King"?
A recent article in the LA Times looked at the changing numbers at the movie box office.
Hollywood has shifted from a star-based economy to a character-based economy. The actor at the top of the credit block has come to matter less than the name of the character or the franchise in the title.
- Marc Bernardin
Jun 17, 2016
It is some time since international figures began to outshine the U.S. domestic, and yet the emphasis has been to service and seduce the local (North American) market.
However as Bernardin points out, Hollywood's corporate bosses have had to sit up and notice that especially the Chinese markets are bringing in huge dollars.
And this is where it gets interesting, because those newly big markets are more interested in the characters than the actors. Star power isn't getting it done. Franchises are bringing the bums on seats.
But Hollywood is responding in a knee-jerk way that is not necessarily good for the creative process. They are looking at franchises (Marvel, Star Trek, Shrek). Bernardin says, "audiences are turning up more for the IP than the celebrity", IP being intellectual property.
How does this translate to the viewers? Well, expect more of the same, because the intellectual property is being managed by people without the creative insight from which the intellectual property sprang.
Can studio executives with MBAs look at a script and say, this character's story will move the audiences. Everyone will want to see it. Like Titanic, a story that the world took to heart, but which did not launch a thousand toys and spin offs. To accountants, it made a lot of money, once.
Writers, sitting at the coal face, are asked to find new ways to write the same characters, but what we need is also new characters, and new, fresh story lines. We don't just need to revisit old friends and heroes in our films, we also need to introduced to new people, new ideas, new places and new insights.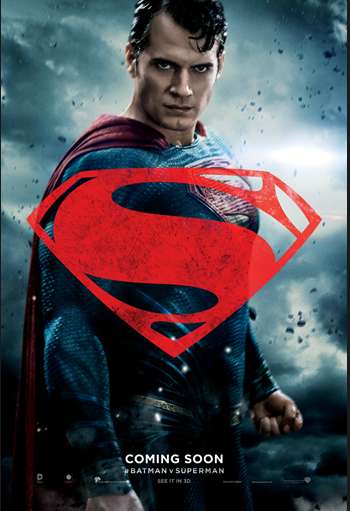 The changes in emphasis have meant that 'stars' are being offered more profit participation than money up front. It means that studios can bring in new faces in old roles and universes. It also means that studios are buying studios to get their hands on the franchises, not the film-makers in the stable.
There is a sad short-sightedness driving Hollywood. The box office numbers are being interpreted in the most obvious way possible, not looking at the charm and verve or angst or inspiring performances, or writing, or directing, or the value of the fresh cinematographic style, they are thinking, this is a character we can work with. Sadly, one suspects that their thoughts are driven by MacDonalds and KFC and toy makers and clothiers, who have been known to sit in on story meetings.
We need Hollywood to return to the dream factory days, to the story days, where yes, there were sequels, and yes, there were copy-cat movies, but also where great stories could come from great studios.
---
Hollywood Reporter Suggests "Star Power" Still Works
They write: "Ellen DeGeneres, who voices Dory in Pixar's 'Finding Dory,' earned 1.9 billion impressions and 9.6 million engagements from promoting the film on social platforms."
MEDIA RELEASE
(June 21, 2016 -- Burbank, CA) -- Warner Bros. Consumer Products (WBCP) arrives at Licensing Expo 2016 with a slate of franchises and fan-favorite properties to drive its global licensing, merchandising and retail businesses in 2016 and beyond. WBCP will be presenting an incredible array of opportunities from the DC portfolio, including Wonder Woman, DC Super Hero Girls, and "The LEGO Batman Movie"; the highly anticipated "Fantastic Beasts and Where to Find Them"; the innovative family-adventure "S.C.O.O.B." (ed- fully CG film based on Scooby Doo); and more.
"As we head into Licensing Expo 2016 and look to the year ahead, we're focused on forging new and innovative partnerships with premier licensees and retailers, continuing to build strong franchises, and delivering great product and experiences to our consumers," said Pam Lifford, President, Warner Bros. Consumer Products. "By strategically leveraging our world-class franchises, we'll continue to offer our new and seasoned partners more consumer engagement opportunities, best-in-class product and expanded fan experiences."
---
Alliance Française Classic Film Festival
"Les Blondes"
The Alliance Française Classic Film Festival is proud to announce that following the success of last year's inaugural event in Sydney, it will now become a national festival.
Alliance Française will present with STUDIOCANAL and in association with Palace Cinemas, this exciting complement to the renowned Alliance Française French Film Festival, taking place from late August onwards in Sydney, Melbourne, Canberra, Brisbane and Perth. The annual Alliance Française Classic Film Festival aims to rediscover masterpieces of French cinema, highlighting a talent, actor or director who has made an indelible contribution to France's celebrated film industry.
"Les Blondes" is the theme for the second edition of this Festival, celebrating 5 emblematic actresses in iconic French films from 1952 to 1975: Brigitte Bardot, Catherine Deneuve, Jean Seberg, Romy Schneider and Simone Signoret. Decorated figures of French cinema, with a certain je ne sais quoi, these iconic blondes collectively garnered a myriad of Césars, Oscars and other awards for their performances and films; each artiste is a revered symbol of French culture whose talent and presence has reverberated far beyond the confines of cinema.
The Festival will showcase 5 films in 6 cinemas to across 5 Australian cities, encompassing 30 sessions, including an Opening Night event in each city.
---
From Hollywood To Hanging Rock Victoria Secures HBO Hit 'The Leftovers'
4th Jun 2016
Victoria has landed a Hollywood coup, securing filming of the third and final season of star-studded HBO and Warner Bros. series The Leftovers in Melbourne.
Premier Daniel Andrews was joined by HBO's Senior Vice President of West Coast Production Jay Roewe at Warner Bros. Studios in Los Angeles, to make the exciting announcement. Creating more than 250 local jobs and injecting around $20 million into the state's economy, The Leftovers is the largest international television production deal since Childhood's End was shot in early 2015.
Created by Damon Lindelof and Tom Perrotta, based on Perrotta's best-selling novel of the same name, The Leftovers is a drama that explores a world in shock and the lives that are changed forever, when 140 million people inexplicably vanish.
The first two seasons featured Justin Theroux, Carrie Coon, Amy Brenneman, Christopher Eccleston, Liv Tyler, Regina King and Ann Dowd. Broadcast across the US in 2015, the second season was the third-most watched drama, attracting around 6 million viewers every episode.
It's the second time American entertainment powerhouses HBO and Warner Bros. have chosen Victoria as a filming location. Warner Bros. chose Victoria to film its visually stunning feature Where the Wild Things Are, and HBO selected Victoria as the backdrop to its award-winning 10 part television miniseries, The Pacific. A range of unique Melbourne and regional locations will set the scene for the final instalment of the series, with filming to commence in June 2016.
Filming for the production will take place over three months with some post-production and visual effects work to also be completed in Victoria.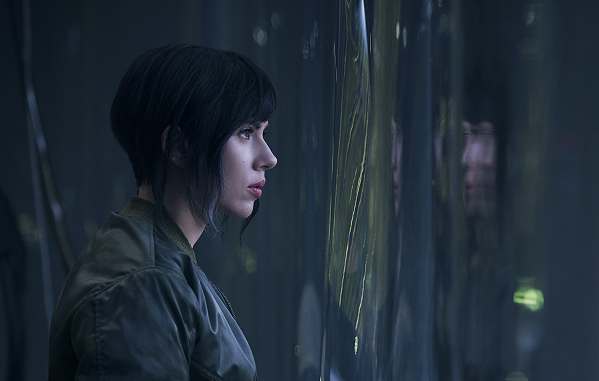 Live Action Ghost in the Shell Begins Production
HOLLYWOOD, CA (April 14, 2016) - Paramount Pictures and DreamWorks Pictures have announced that production is underway on "GHOST IN THE SHELL," starring Scarlett Johansson ("AVENGERS: AGE OF ULTRON," "LUCY") and directed by Rupert Sanders ("SNOW WHITE AND THE HUNTSMAN"). The film is shooting in Wellington, New Zealand.
"We are so pleased to be in Wellington to shoot 'GHOST IN THE SHELL,'" said producers Avi Arad, Ari Arad, Michael Costigan and Jeffrey Silver. "The city boasts state-of-the-art production facilities and a rich urban landscape that make it an ideal setting for a sci-fi action film. The crew-base in New Zealand working on the film is first class, and working with Sir Richard Taylor and the team at Weta Workshop is inspirational on every level. The people of New Zealand have been terrific partners in helping us bring this story and its beloved characters to audiences around the world and we are thankful for their continued hospitality."
For more information about Ghost in the Shell (2017) see our First Looks.
In other news
Weta Digital have two paid internships available. Read more.
---
New for Festivale readers
Festivale has a busy Facebook page with the latest information from our inbox, our latest reviews and features, and other good stuff. But if you just want to see posts about movies and DVDs, including trailers and first looks as well as our reviews, come over to the Reel Life at Festivale page.
We post when there are new giveaways, so visit soon, visit often.
---
---
May 2016
Meet the Actors TMNT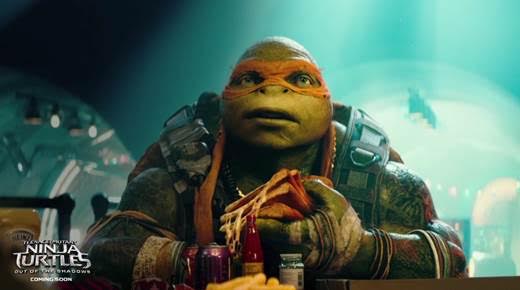 You can catch stars Will Arnett and Stephen Amell in the flesh in Sydney on May 29 and Melbourne on May 30 for fun-filled fan screenings!
In cinemas June 9, 2016. For more information, the latest trailers, photos and links, go to our first looks page for Teenage Mutant Ninja Turtles: Out of the Shadows
---
TV Week Logie Awards
It wasn't just the Gold Logie that had the highest honour of the night. The crowd roared when A Place To Call Home actress and TV legend NONI HAZLEHURST was inducted into the TV WEEK Logies Hall of Fame.
"I'm really proud to be recognised," Noni tells TV WEEK. "But, there are many equally deserving women who should have been acknowledged before this. Hopefully, the glacier will keep moving forward."
And the winners are...
Best Personality on Australian Television (Waleed Aly, The Project)
Best Presenter (Waleed Aly, The Project)
Best Actor (Erik Thomson, 800 Words)
Best Actress (Jess Marais, Love Child)
Best New Talent (Adam Dovile, Better Homes And Gardens)
Best Lifestyle Program (The Living Room)
Best Sports Program (The NRL Footy Show)
Best Entertainment Program (Family Feud)
Best Reality Program (The Block)
Best Drama Program (Home And Away)
Best Factual Program (Gogglebox)
Best News Panel or Current Affairs Program (The Project)
Most Outstanding Actor (Alex Dimitriades)
Most Outstanding Actress (Deborah Mailman)
Most Outstanding Drama Series (Glitch)
Most Outstanding Miniseries or Telemovie (The Secret River)
Most Outstanding Supporting Actor (Tim Minchin)
Most Outstanding Supporting Actress (Celia Ireland)
Most Outstanding Children's Program (Ready For This)
Most Outstanding Entertainment Program (Gruen)
Most Outstanding News Coverage (Parramatta Shooting)
Most Outstanding Public Affairs Report (The Killing Season)
Most Outstanding Sports Coverage (KFC T20 Big Bash League)
Most Outstanding Comedy Program (Shaun Micallef's Mad As Hell)
Hall of Fame (Noni Hazlehurst)
Most Outstanding Newcomer - Actor (Joel Jackson)
Most Outstanding Newcomer - Actress (Melina Vidler)
The Graham Kennedy Breakthrough Star Of Tomorrow Award (Ky Baldwin)
---
March 2016
Spotlight on the Oscars
A biographical film about the Pulitzer-prize winning investigation into paedophilia amongst the Catholic priests of Boston has won the Oscar for best picture. Spotlight is one of Festivale's favourite films, an engrossing story of those who dared to reveal the rot of abuse and cover-ups that continues to this day.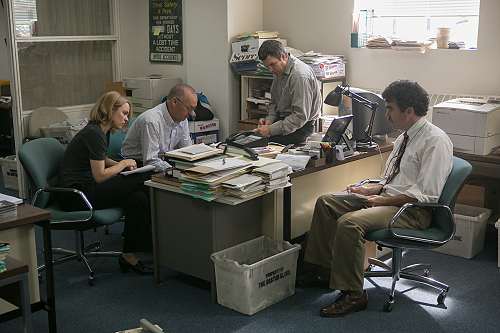 Previously, on Saturday February 27th, won five Spirit Awards for Best Feature, Best Director, Best Screenplay, Best Editing, Robert Altman Award.
The Big Short's writers Charles Randolph and Adam McKay won for best adapted screenplay and Josh Singer & Tom McCarthy won for their original screenplay of Spotlight. Thumbs down to the Oscar's site for putting the screenwriters' awards at the bottom of their list of nominations. Where does a film begin? Whose vision underlies the entire film?
Mad Max: Fury Road won six Oscars, mostly in technical categories.
Best actor went to Matt Damon for Revenant, while best actress went to Brie Larson for Room. Alicia Vikander won best supporting actress for her role in The Danish Girl.
Best foreign language film went to Son of Saul while best animated feature went to Inside Out.
---
February 2016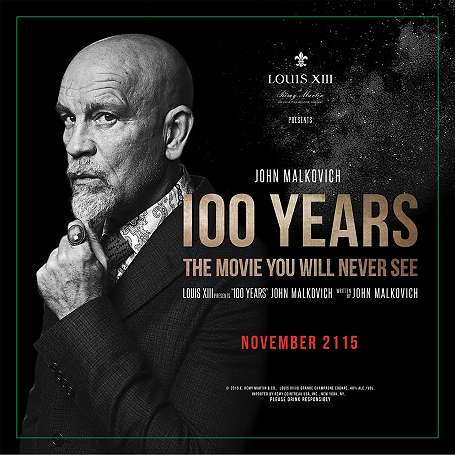 100 Years To Wait For Malkovich's New Movie
French wine-maker Remy Martin, responsible for the Louis XIII label has produced a landmark film created to be put in a time capsule and not released for 100 years. This is a metaphor for their cognac, which is aged for 100 years.
100 Years explores the fascinating concept of what the future may look like in one hundred years. The cast and crew of 100 Years will never see the final cut of the film.
"We sought to create a proactive piece of art that explores the dynamic relationship of the past, the present, and the future," said Ludovic du Plessis, Global Executive Director for LOUIS XIII Cognac.
A French art de vivre enthusiast and thought-provoking virtuoso, John Malkovich developed an original screenplay for 100 Years. Shuya Chang was cast as his on-screen partner, and the two journey through an unknown future achieved by innovative set design and extensive CGI effects.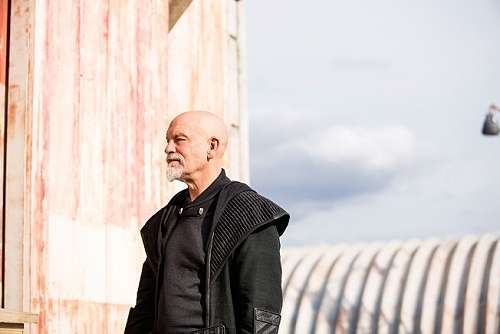 The custom made safe is a marvel of design, featuring bulletproof glass and a revolutionary timer that records the time and date and counts down one hundred years. Upon the closing of the safe, the door will not open until the one hundred year countdown is complete on November 18, 2115. The first luxury safe box in the world that cannot be opened with a code or a key, the safe will open automatically regardless of access to power.
See our 100 Years movie page for more photos, info, and links
---
Jan 2016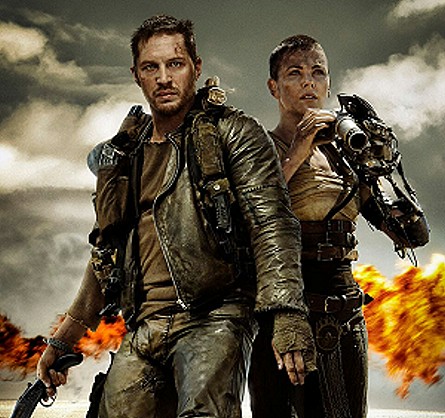 Max Mad: Fury Road best film and best director at AACTA Awards 2015
Mad Max: Fury Road continued its impressive run in the 5th AACTA Awards season. Following six wins at the Industry Dinner, it received two Awards: the AACTA Award for Best Direction presented by Hyundai Genesis went to George Miller; and the AACTA Award for Best Film presented by Presto was awarded to Miller along with Doug Mitchell and PJ Voeten
Other Award Winners
Following its win for Best Costume Design at the Industry Dinner, comedic revenge drama The Dressmaker scooped three Awards for performance tonight, as well as the AACTA People's Choice Award for Favourite Australian Film, totaling five wins for the 5th AACTA Awards season. Kate Winslet was awarded the AACTA Award for Best Lead Actress for her performance as Tilly Dunnage in The Dressmaker, Hugo Weaving received the AACTA Award for Best Supporting Actor and Judy Davis received the AACTA Award for Best Supporting Actress.
Michael Caton received the AACTA Award for Best Lead Actor for his moving performance in Last To Cab Darwin, marking a first-time AFI or AACTA Award win for the seasoned performer, whose last AFI Award nomination was for his performance as Darryl Kerrigan in The Castle, which cemented Caton as one of Australia's most popular and much-loved performers.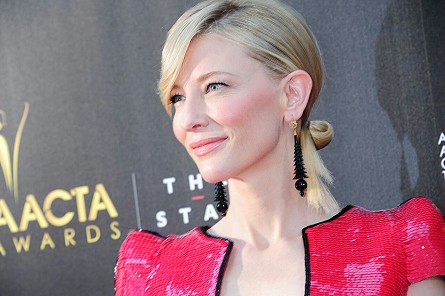 Cate Blanchett Honoured
Performer Cate Blanchett received the Longford Lyell Award, receiving tributes from some of the world's biggest names in film, including Martin Scorsese, Robert Redford, Ridley Scott and Ron Howard.
The Australian Academy of Cinema and Television Arts (AACTA) was launched by the Australian Film Institute (AFI) in August 2011. The AACTA Awards, a continuum of the AFI Awards, are the Australian screen industry's "stamp of success" -- the Australian equivalent of the Oscars and the BAFTAs.
AFI | AACTA CEO Damian Trewhella said: "The AACTA Awards play an important role in promoting this talent to our international industry peers as well as audiences here and at home, and tonight's results will drive sales for awarded productions and see exciting new chapters in the careers of Award recipients. Especially the young performers awarded tonight, whose recognition will open new doors internationally as we have seen so many times over the years."
---
Buy from Amazon